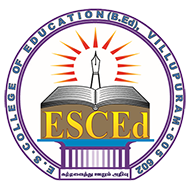 Curricular Aspects of our college
Objectives
To make the teacher acquire relevant knowledge, skills and attitude in pedagogical methods.
To prepare teachers to become role models in class rooms to be an instruments for building productive human capital in our country to face the challenges of globalization.
To enhance the competency of the teachers at upper primary, secondary and higher secondary level of education.
To create a comprehensive understanding about pedagogical methods in organizing learning experiences for students.
To strengthen the skills of teachers in classroom and school management.
To develop new skills required for teachers in organizing instructional methods through novel multimedia approaches.
B.Ed. (Two-Year) Semester Pattern under CBCS-Programme Structure and Semester-wise Distribution of Courses
Semester - I
Educational Psychology
Contemporary India And Education
Teaching And Learning
Language Across The Curriculum
Pedagogical Subjects: Part - I
Semester - II
Understanding Disciplines and Subjects
Assessment for Learning
Environmental Education
School Management and Administration
Pedagogical Subjects: Part - II
Semester - III
School Internship Record Verification & Teaching
Learning Assessment - External Evaluation
PART -A - Assessment of Teaching Competency and Records
PART -B - EPC-Records
PART -C - Online Course
Semester-IV
Gender, School and Society
Knowledge and Curriculum
Creating an Inclusive School
Yoga, Health and Physical Education
Elective Subject
II-year Syllabus (Non - Semester Pattern)
Knowledge and Curriculum
Assessment for Learning
Creating an Inclusive School
Environmental Education
Pedagogy of School Subjects (Content Mastery)